G-Tech RAID "Popped"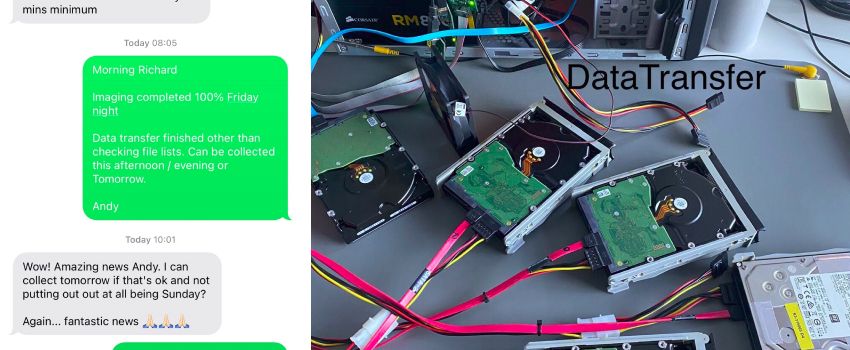 Today's txt…
Wow! Amazing news Andy. I can collect tomorrow if that's ok and not putting out at all being Sunday?

Again… fantastic news 🙏🏻🙏🏻🙏🏻
When a G-Tech RAID "popped" the concern was that the drives had failed and collection was arranged for it to go for data recovery to specialists in their Fields.
But something did not feel right. 🚩
I personally took the early morning enquiry on Friday listened to the description from a potential client who was in the process of de-duplicating data and had prepared his other unit to transfer to.
He explained after several enquiries he had already found an online quote from one of Europe's largest data recovery labs £97 - for 4 x4TB RAID with 10.92TB of data - A bargain!?
As a professional and a normally fastidious manager of data he knew it would take time and was concerned that the Fields Data Recovery Specialists "account manager" was just too slick for a £97 online quote from an ISO9001 global company with offices in Pall Mall and Canary Wharf in London and HQ in Bridgend Wales who had been calling non-stop even after he had asked them to stop.
This triggered a second search. Fortunately he found the data recovery blog.
The UK and Europe Account Manager of Fields is also Account Manager for Data Recovery Specialists, Rapid Data and Fields Data Recovery in St Louis Missouri. A big hitter one of the "Friends of Fields" who deceives and defrauds and also in my experience known for his "bonuses" and belief he is the best at what he does - and he is…
The client had decided to call R3 and spoke to me (Andrew Butler) after finding my posts.
If you are not aware I founded R3 Data Recovery Ltd Britain's data recovery Hospital for businesses and consumers.
I am a Director, an operations manager and Disaster Recovery team coordinator, but I also help out on enquiries when lines are very busy 😎
I help those affected by and at risk from those that "profit" from the Fields Data Recovery scam.
I explained it would be very unlikely that he needed data recovery but if he needed time critical data transfer there is a fixed cost and providing it is in the lab Friday it would be ready for dispatch / collection Monday.
He set off and was driving direct to Security House and despite a closure on a section of the M1, a diversion and additional 90 mins driving he arrived as the lab was getting lunch. I was able to give a tour of the lab which had been refurbished since its last video tour but still essentially the same as it has been for 16 years.
After a technician completed booking in and an engineer confirming the Hitachi Drives were working fine, 2 x 6TB and 2x 8TB image drives were selected to image to, imaging commenced and completed around 11pm.
The first 7TB of data completed transfer overnight, the remaining during Saturday ready for Sunday.
The two 8TB WD Reds file listed and ready for collection.