R3 recover and restore 50 year old programming
Regardless of how near or how far from R3 Data Recovery's lab a disaster happens the team have a unique range of experience spanning 30 years of data migration and data / disaster recovery.
From large 360TB SAN running entire cities to single MB databases running £Billion supply chains or investments Andy has built the Security House lab in Sheffield to deliver what he designed it to do.

When an International client called out their long term IBM emergency support contractor to attend to the failure of an IBM AS400 they were obviously expecting a prompt restoration. With replacement drive in hand and backup tapes available all looked well. They did not however expect the engineer to pronounce the system not restorable.
The 22 year old system drives had failed with one severely degraded from numerous power interruptions and corruption to the data on the other drive. The spare drive was a 2GB drive sourced some years earlier for such a situation, the failed drives were 1GB SCSI Wide 68pin.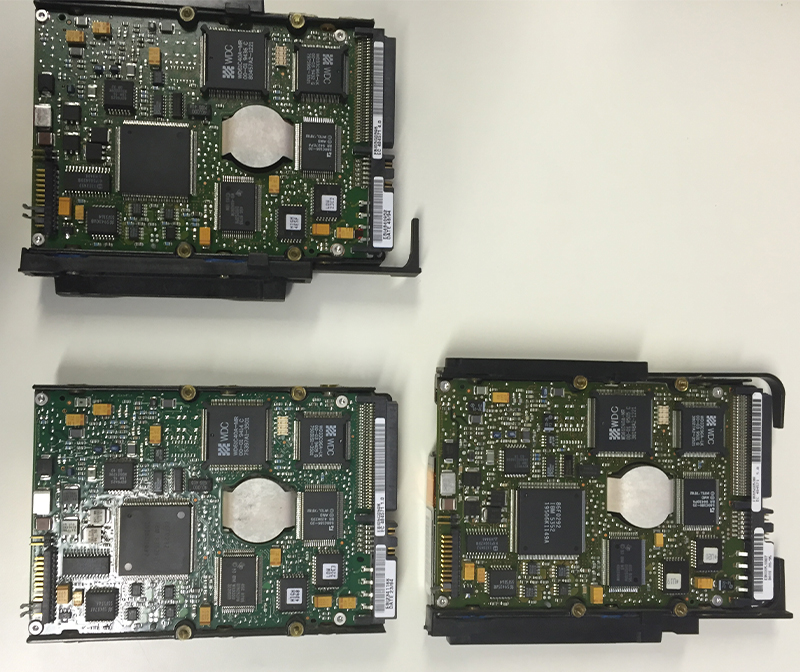 It was at this point Andy Butler was called in to assist, "I took the call and initially anticipated a relatively straight forward emergency disaster recovery engagement" having his own 30 years of experience and a team of engineers he has brought together and built R3 into the very best British owned data recovery lab with over 20 full time staff on 24/7 365 rotation. And capability to image up to 200 3TB Drives per 24 Hour period giving capacity to absorb fire, flood and datacentre gas drop disasters.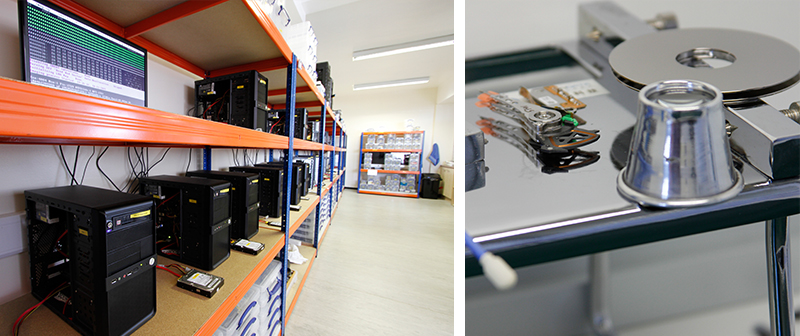 "I have a worldwide reputation for handling server and storage infrastructure recovery engagements and routinely deliver emergency recovery in the fastest time frames across the UK and Europe". What is little known about Andy, his team and his lab, is that they do this even where other DR companies have given up or suggested they have the drives shipped to the US. What's more Andy was quite literally on the door step of the client.
However even this unusual engagement hid a more complex situation that was going to be much more time consuming. Even the backup tapes could not restore the system. The owners and Managers at the clients HQ were fearing the worst and planning for severe disruption, their ordering, stock management, delivery and invoicing was crippled and it was potentially commercially damaging.
"Although we had gained control of the failed drives and the replacement drive to be imaged to, we were facing 2-3 weeks of imaging" said Andy- Other donor drives were quickly collected from secure storage to work out why.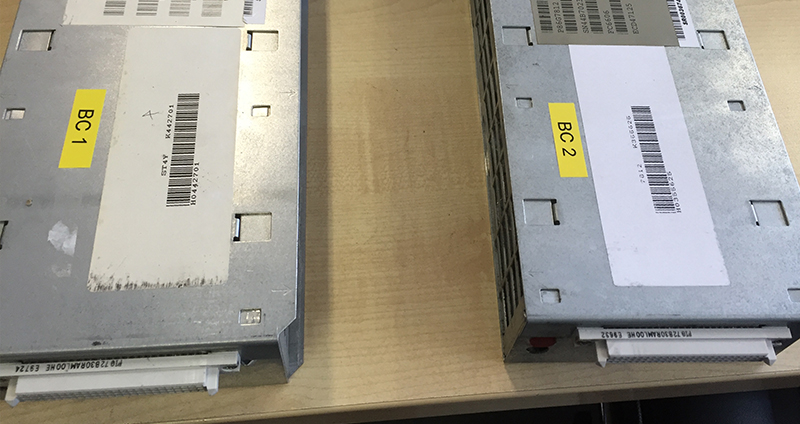 As the R3 engineers continued with further investigation it was found that the IBM AS 400 drives were actually setup in S36 Minicomputer mode from the early 1980's with RPG programming. Worse the formatting of the drives is so rare that data recovery equipment and software needed to rescue the failing disks is no longer developed or supported. Most developers have retired and indeed the developer of the clients system who is now in his 70's was also unavailable due to suffering a stroke in the previous month. Andy commissioned bespoke scripts to be developed to enable improved read and write times saving several days and potentially hundreds of thousands of pounds of business interruption.
The R3 team worked through the weekend actually making 2 sets of disks ready just in case there were further complications to be encountered.
Mike Wainwright and Andy Butler delivered the disks back to the client the system- said Mike, "although the lab deals with other IBM mainframe type servers coming in for recovery, it is 16 years since I have been on an actual AS400 recovery and reboot in a production environment. The first AS400 systems I personally worked on was when I was decommissioning them 16years ago, even they were not operating in S36 minicomputer emulation".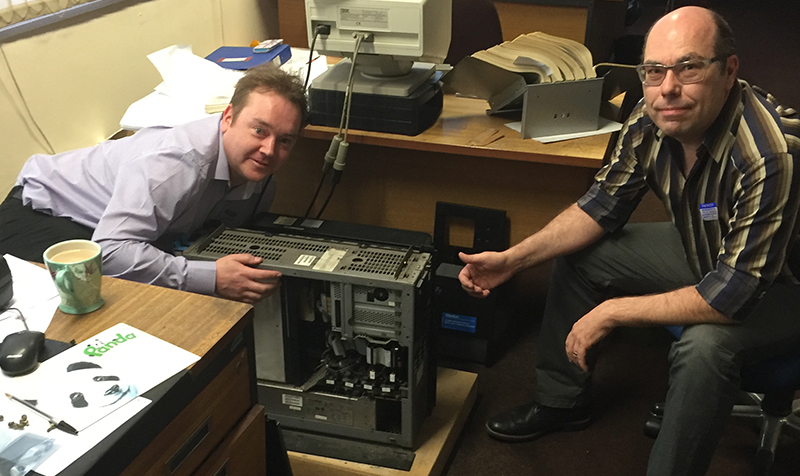 Andy had the task of pressing the power button whilst several concerned managers and staff were still asking questions - having believed the system was unrecoverable.
"I cannot tell you I was not nervous" we were anticipating a good outcome because of the approach we had taken, but a 35 minutes boot up sequence before the system was back online and testable is always one where patience and coffee helps!"
During the boot up routine it was a chance to reflect on 30 year old S36 system only to be told that actually it was an upgrade from a mid 1960's migration from an IBM Mainframe containing development code and data once kept on punch cards and reel to reel tapes - making it the oldest data set and programming to be restored by Andy since building R3.
What's more it proved successful right up to the point of failure.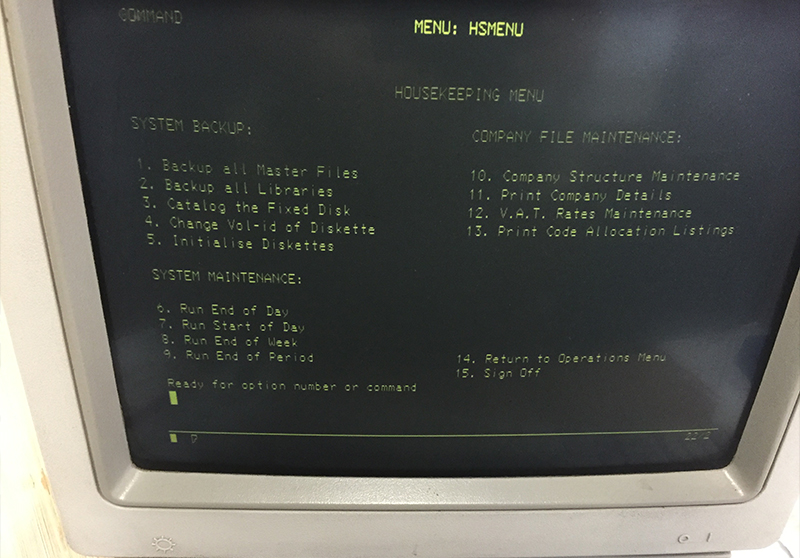 This was not the first AS400 system to be recovered, another with 16x 500GB SAS drives was recovered by Andy in less than 4 days for an OIL prospecting company who needed the fastest recovery possible. Only R3 were able to deliver such solutions in the UK having one of the largest data recovery teams, range of equipment and donor drive stores of any lab in the UK - all with the engineering expertise and experience to match.
The R3 lab and stores are based in Sheffield near the M1 and is relied on by several hundred IT firms and disaster recovery managers every year as well as thousands of small companies individuals and students.

R3 Data Recovery have in the last 4 years brought together industry leading engineers and bought several other DR companies equipment, donor drives and websites as part of a an expansion plan to bring to the UK the very best affordable data recovery.