Help For Victims Of Fields Data Recovery UK & US Scam
Fields Data Recovery is not a data recovery company - It is a brand of the Fields Group
Data Recovery Help after going to Fields Associates brand website Fields-Data-Recovery dot co dot uk and dot com.
Do you suspect you have been scammed by Fields Data Recovery aka Fields Associates Ltd?
Did you believe the £27 or £97 advertising?
The fake Truspilot and Google positive reviews?
Did you get a fake technical or R&D report and a bill for £425+vat or more and no recovery?
Did you know that Fields Analytics Co Ltd Thailand often take your calls and your credit card details over the phone?
Did you know fields outsource their calls to Thailand staff paid less than £450per month plus "unlimited" bonuses for "catching unsuspecting punters"?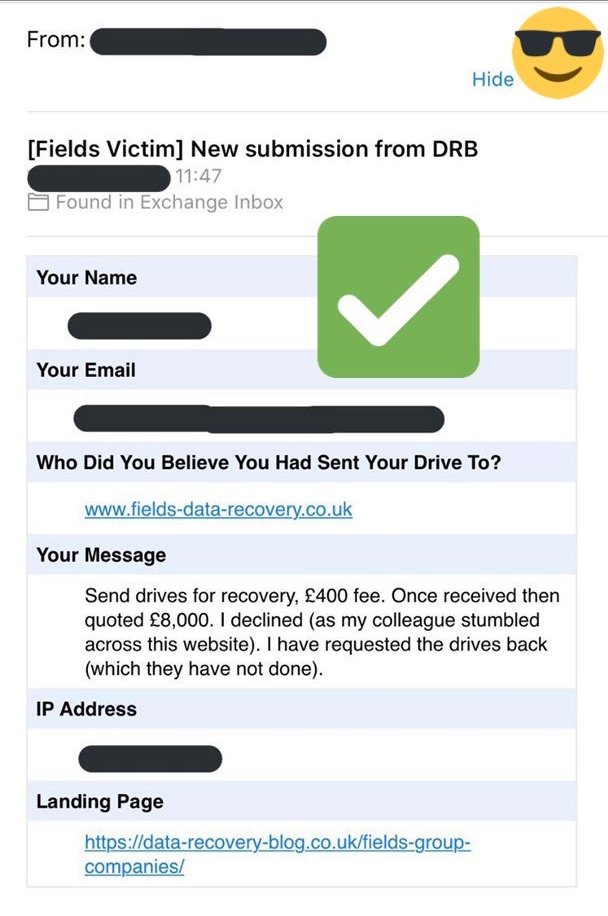 You Are Not Alone
We have been helping victims of Fields for over a decade.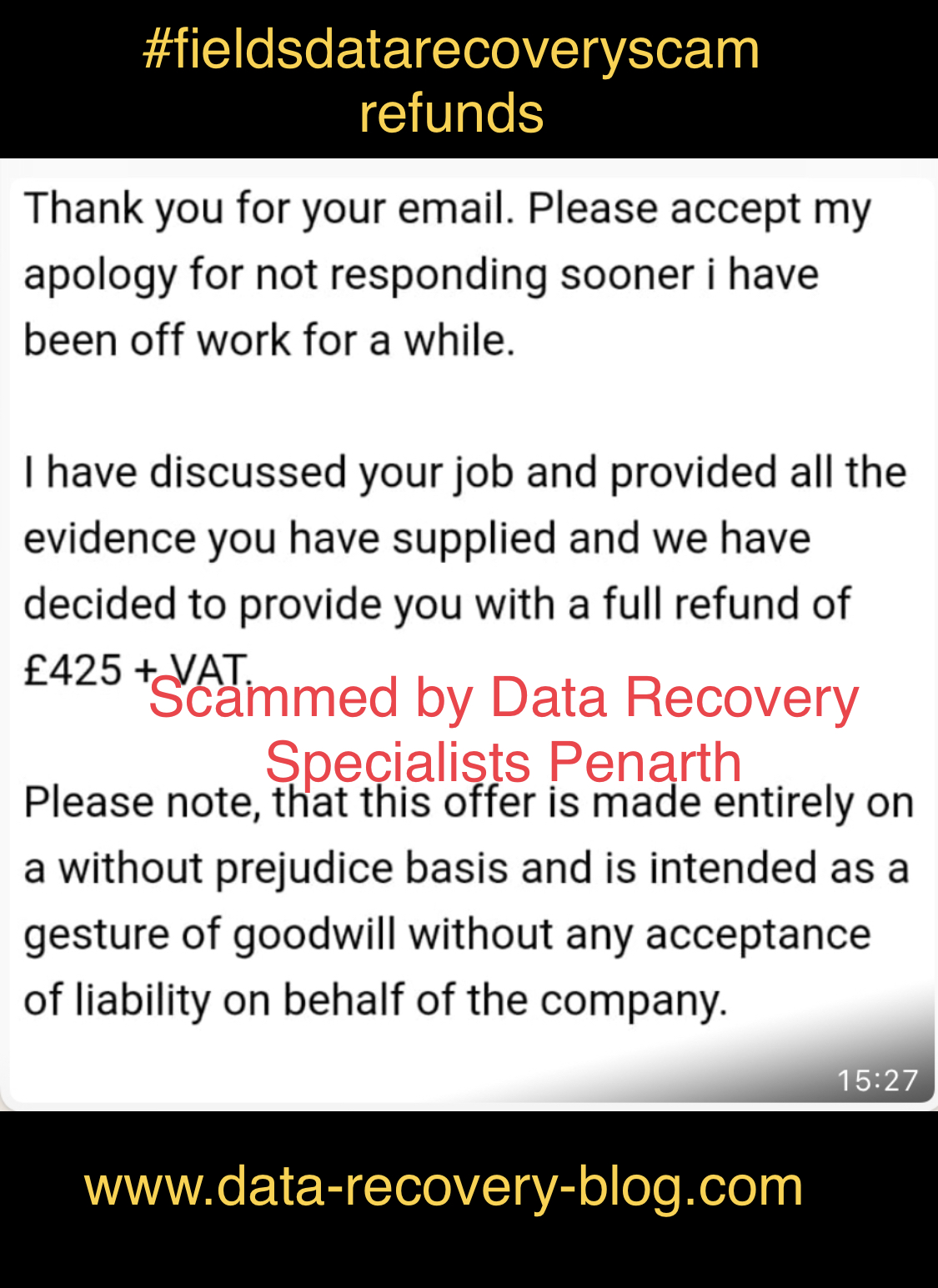 You are just one of thousands scammed. Yes, Fields Data Recovery do have some successes but instead of £97-£300 expect £1200+ for a software recovery you can do for £80 yourself.
Most people searching for data recovery do not need software data recovery, they need complex electronic, mechanical or logical problems solving by specialist data recovery engineers.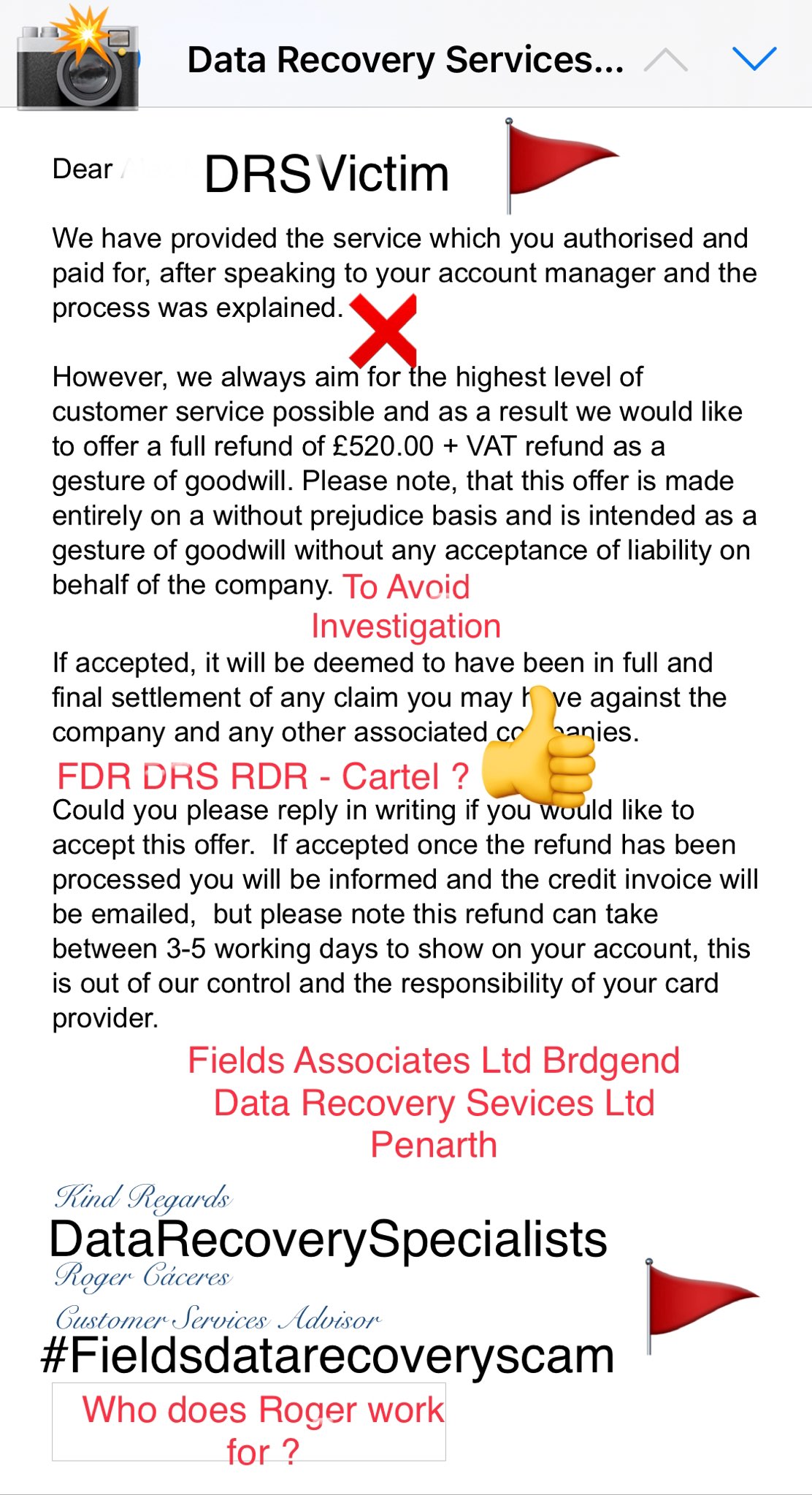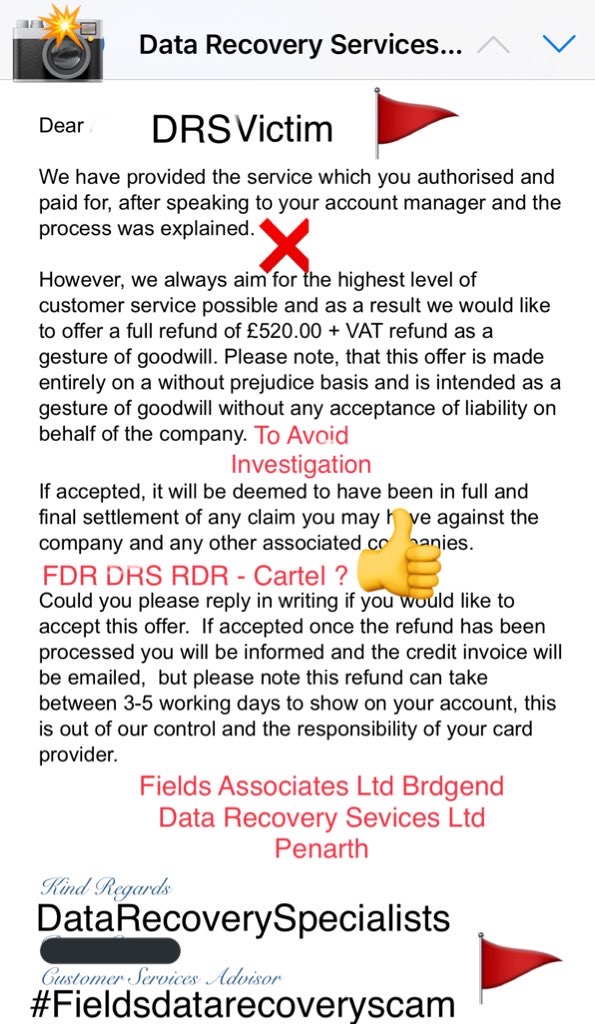 Professional Data Recovery Help
Many times drives declared unrecoverable by Fields Data Recovery are recoverable despite their template reports.
We operate a specially developed system tohelp get your data back and submit your case for investigation.
Many scammed by Fields Data Recovery can get their money back!
Most of the negative reviews for Fields Data Recovery are removed by Fields Groups legal team. They have their own legal team called Endeavour Law Ltd which also posts fake google reviews.
The Owners Of Fields Data Recovery Are The Fields Group / Fields Holdings
Owners
Dr Daryl Hamilton Wallis
Dr Jamie Hamilton Wallis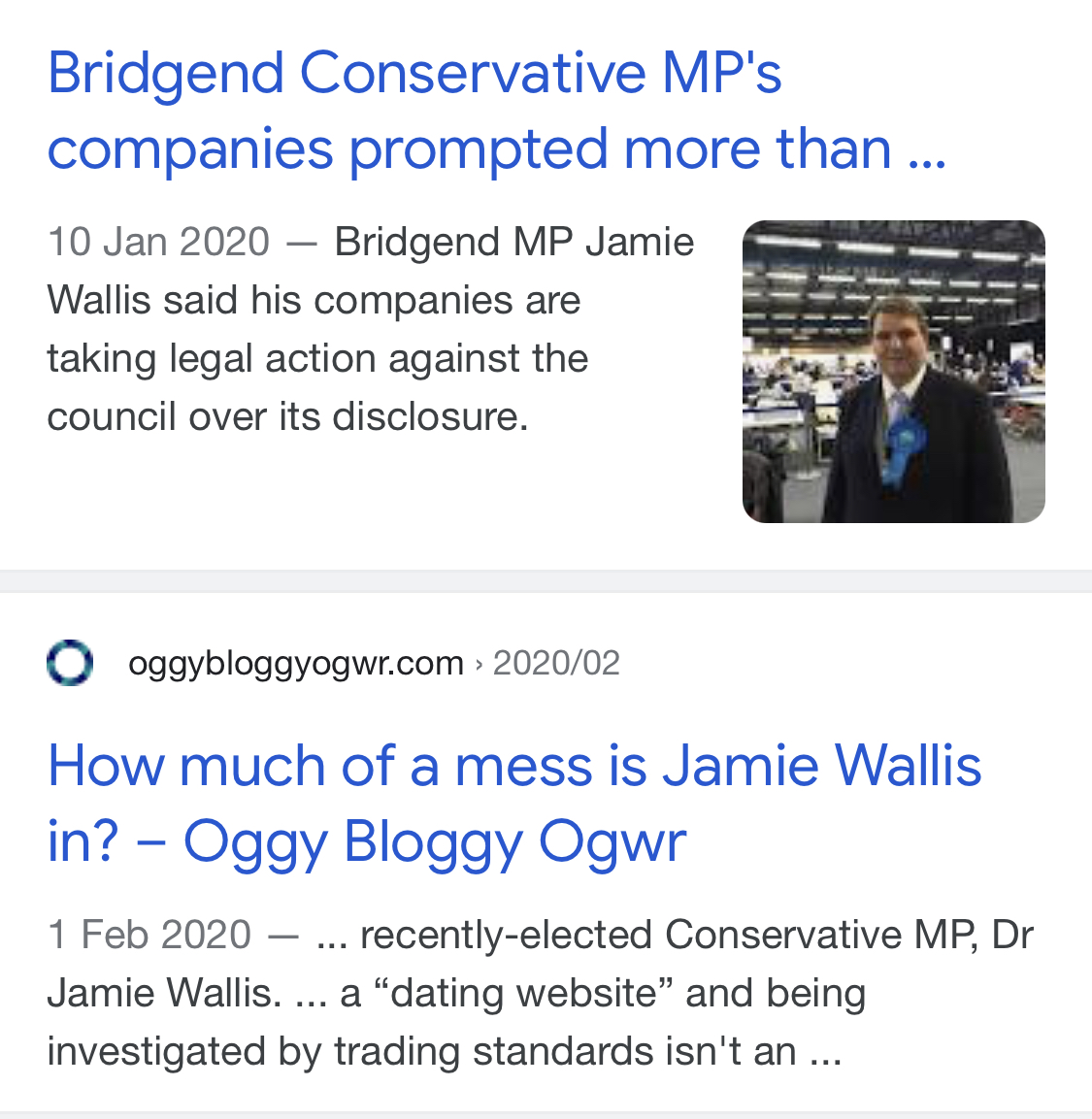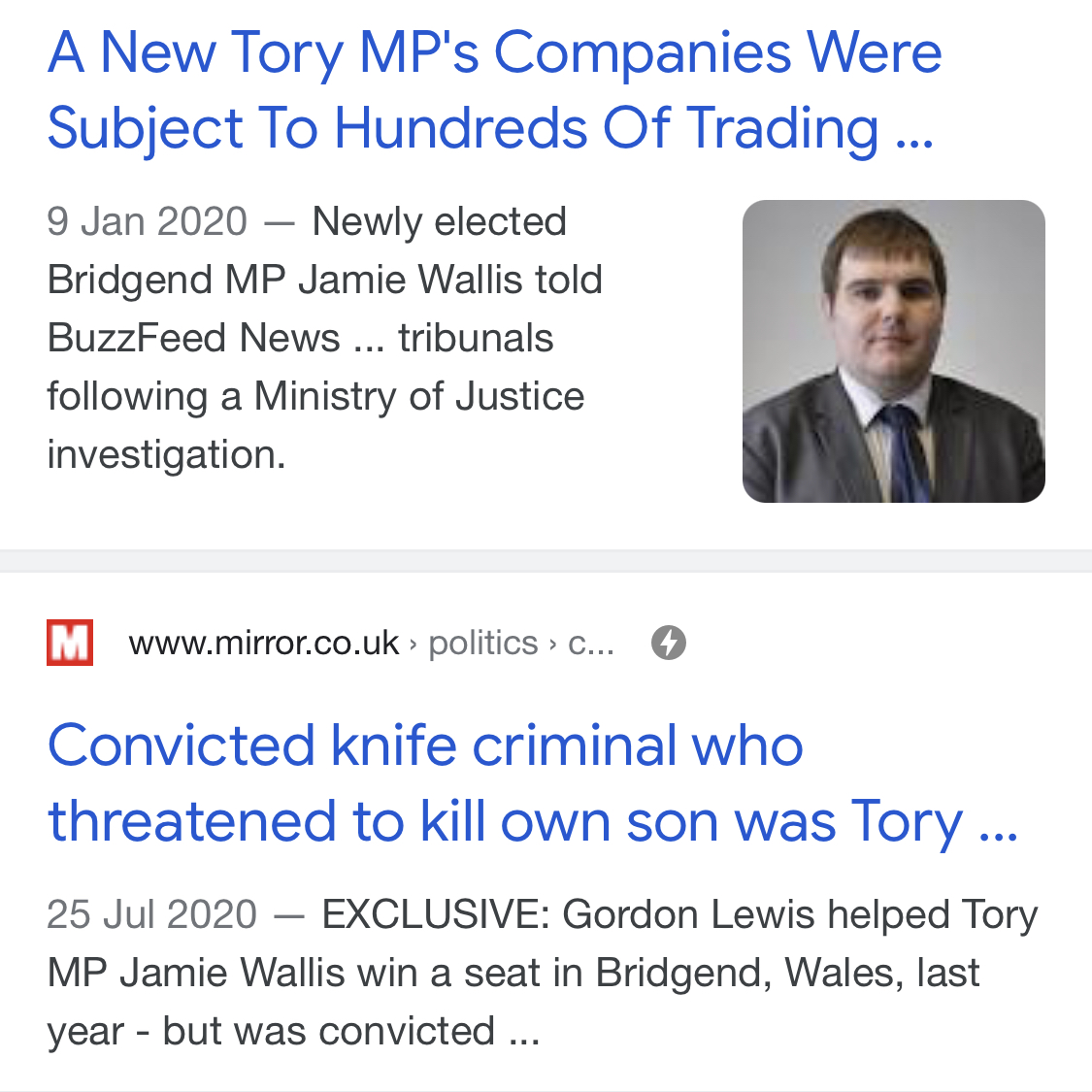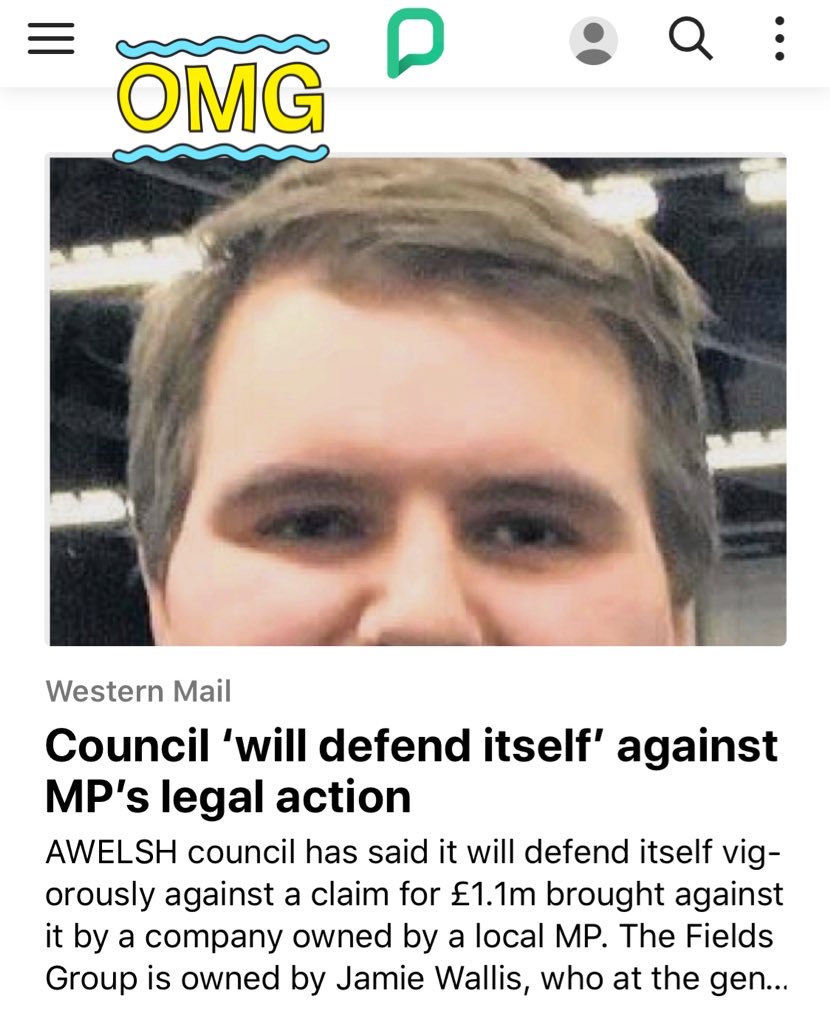 Directors
Steve Jenkins
Daniel Morgan
Fields Data Recovery Negative Customer Reviews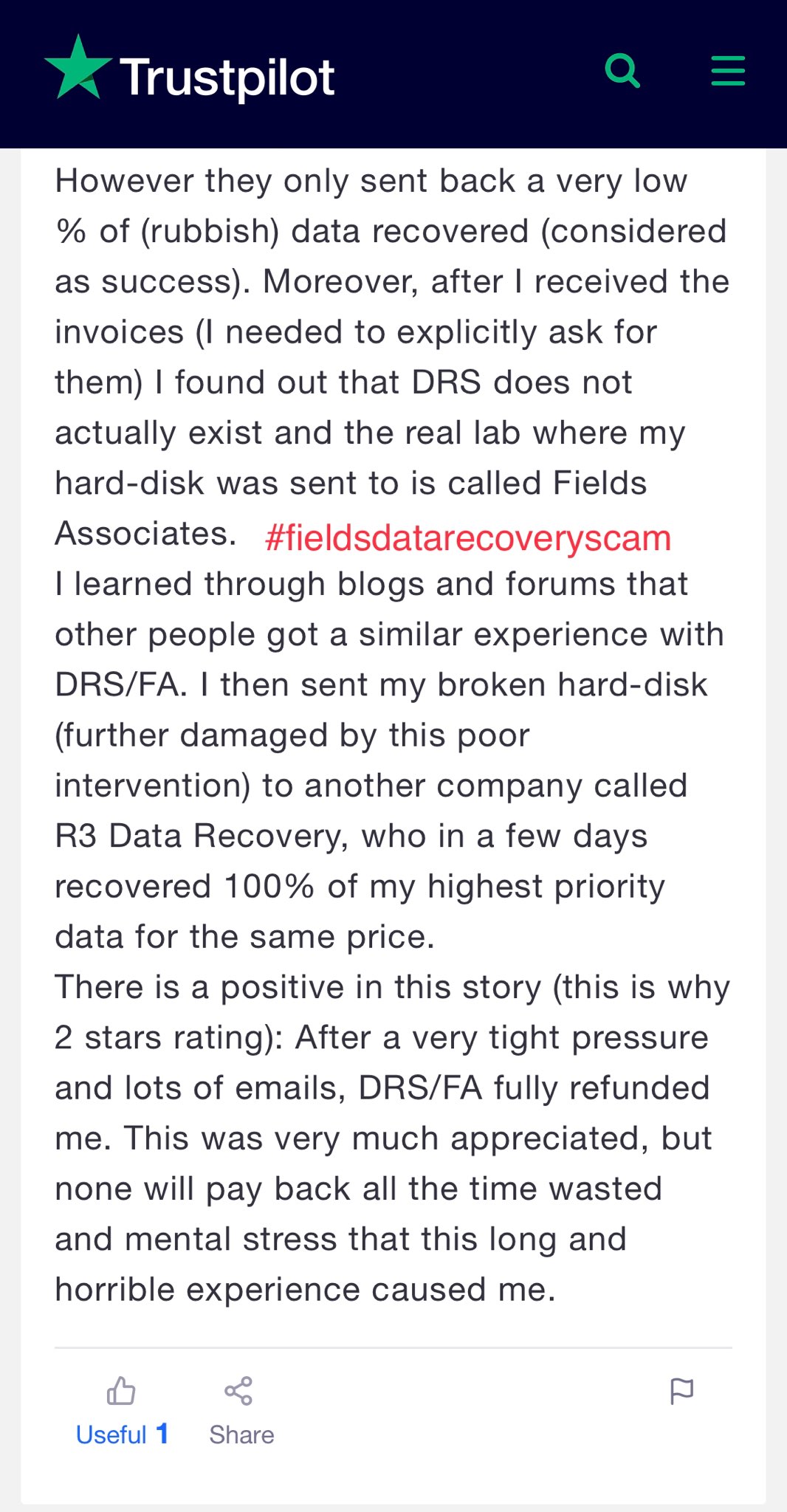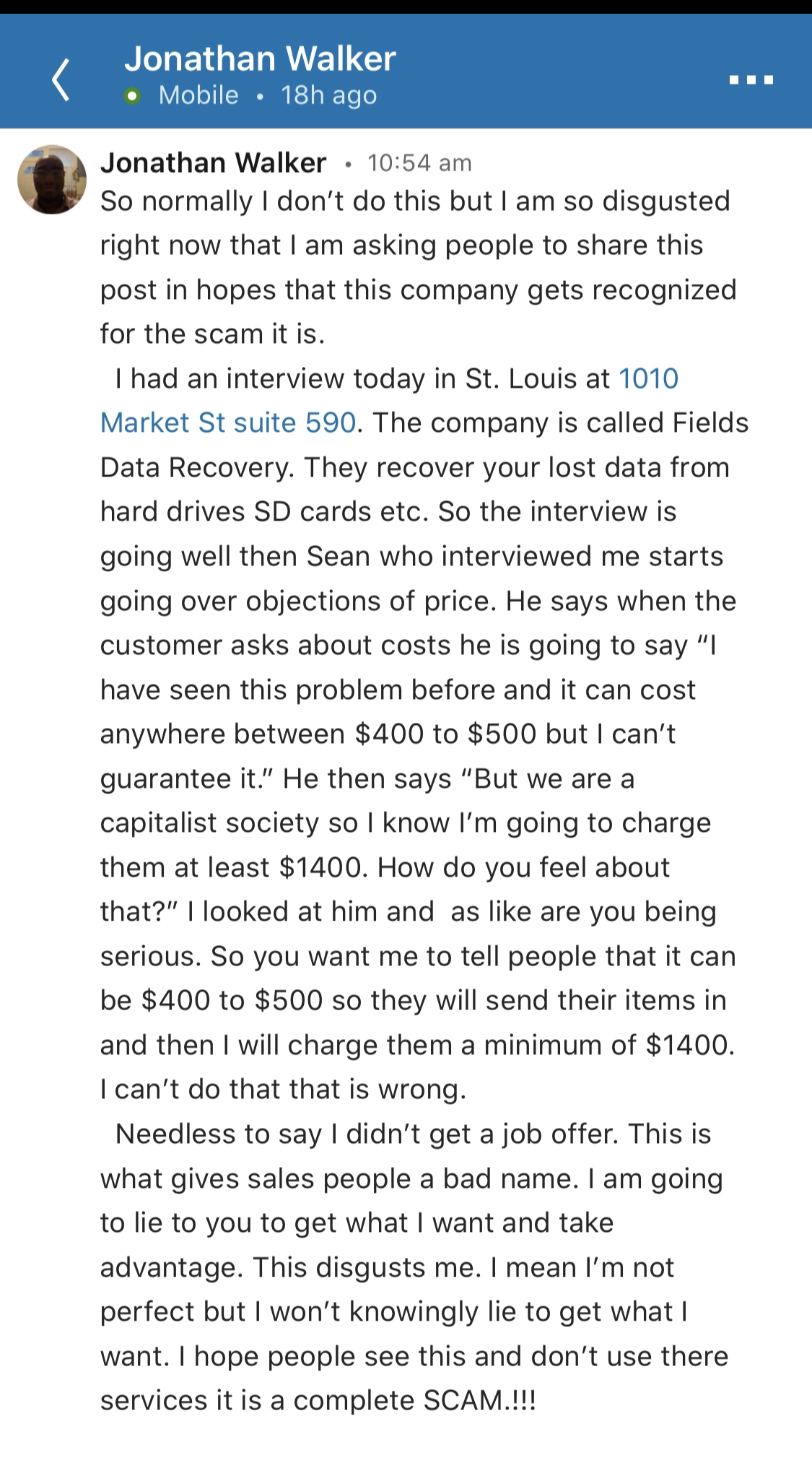 Trading Standards Investigations, Enforcement Visits And Service Requests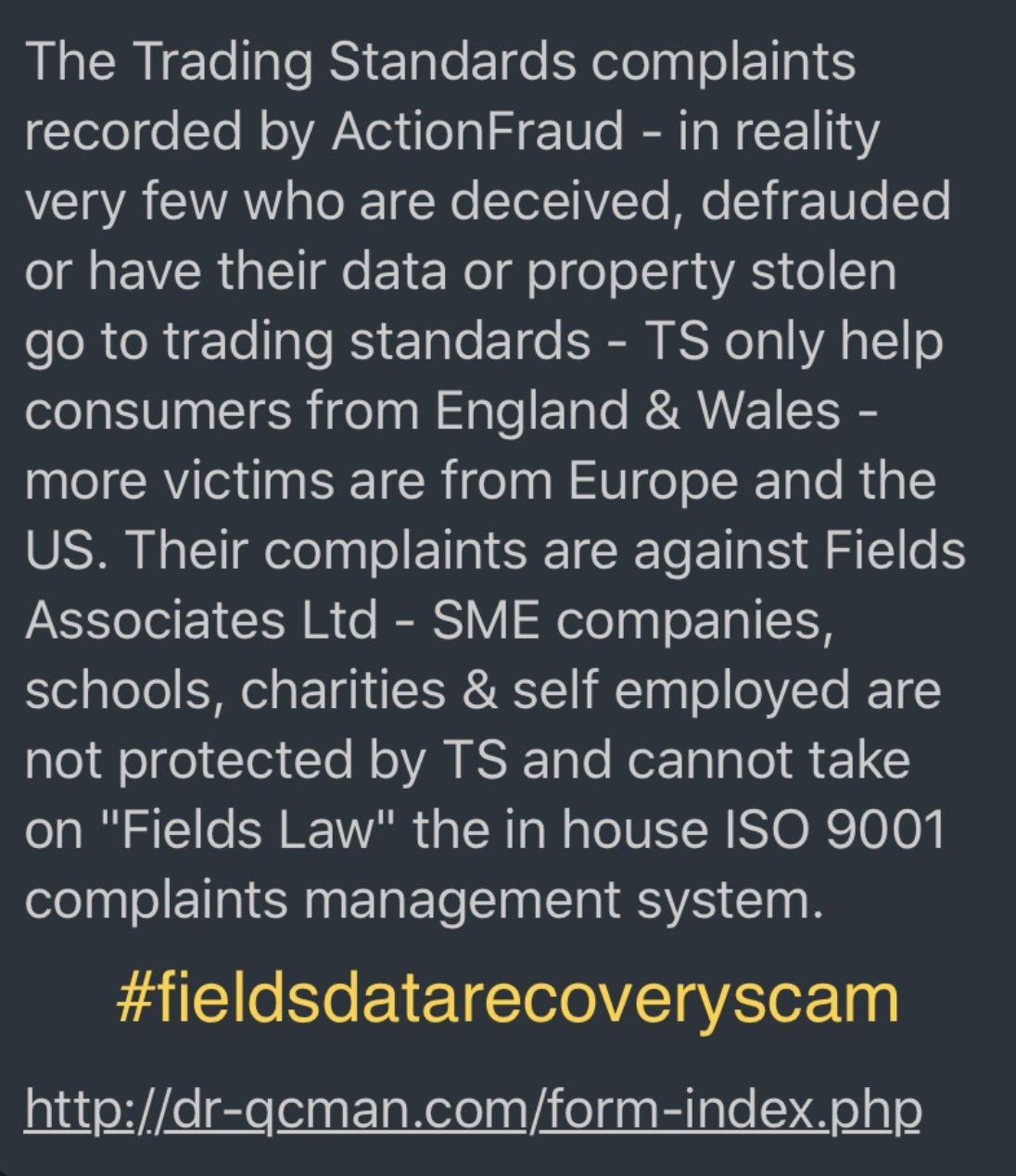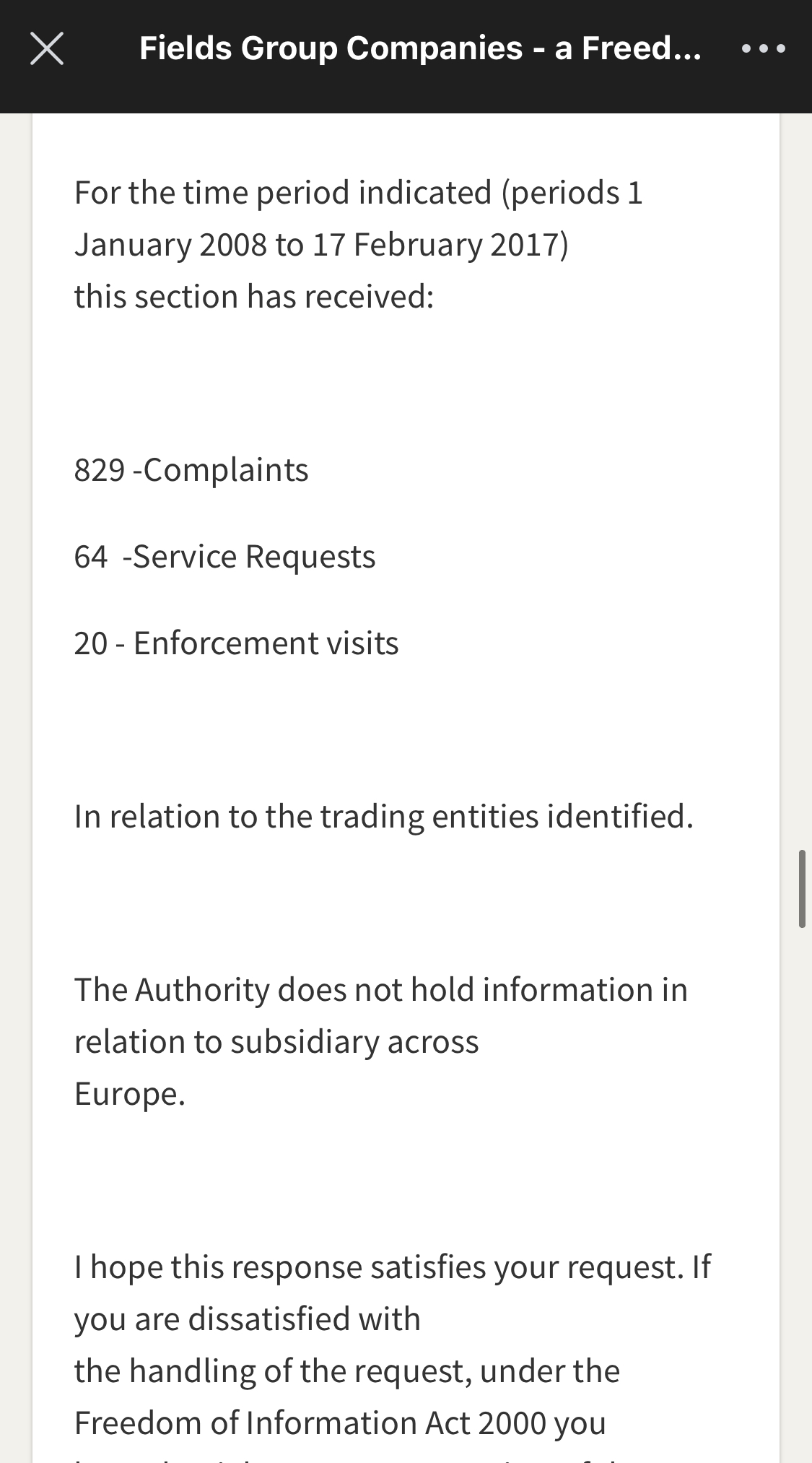 Please note this information is offered as information to help prevent misinformed consumers and businesses losing their chance of recovering data from Servers, HDD, SSD and Memory Cards.
Get advice and assistance from Andy and the team at R3. R3 Data Recovery is real lab that deals with real disasters each an every day. If you have any sort of problem with a hard drive or any data storage device, we are the people to contact. Call us today at0800 999 3282 orclick here to fill out our FREE, no-obligation diagnositcs form for immediate help and assistance.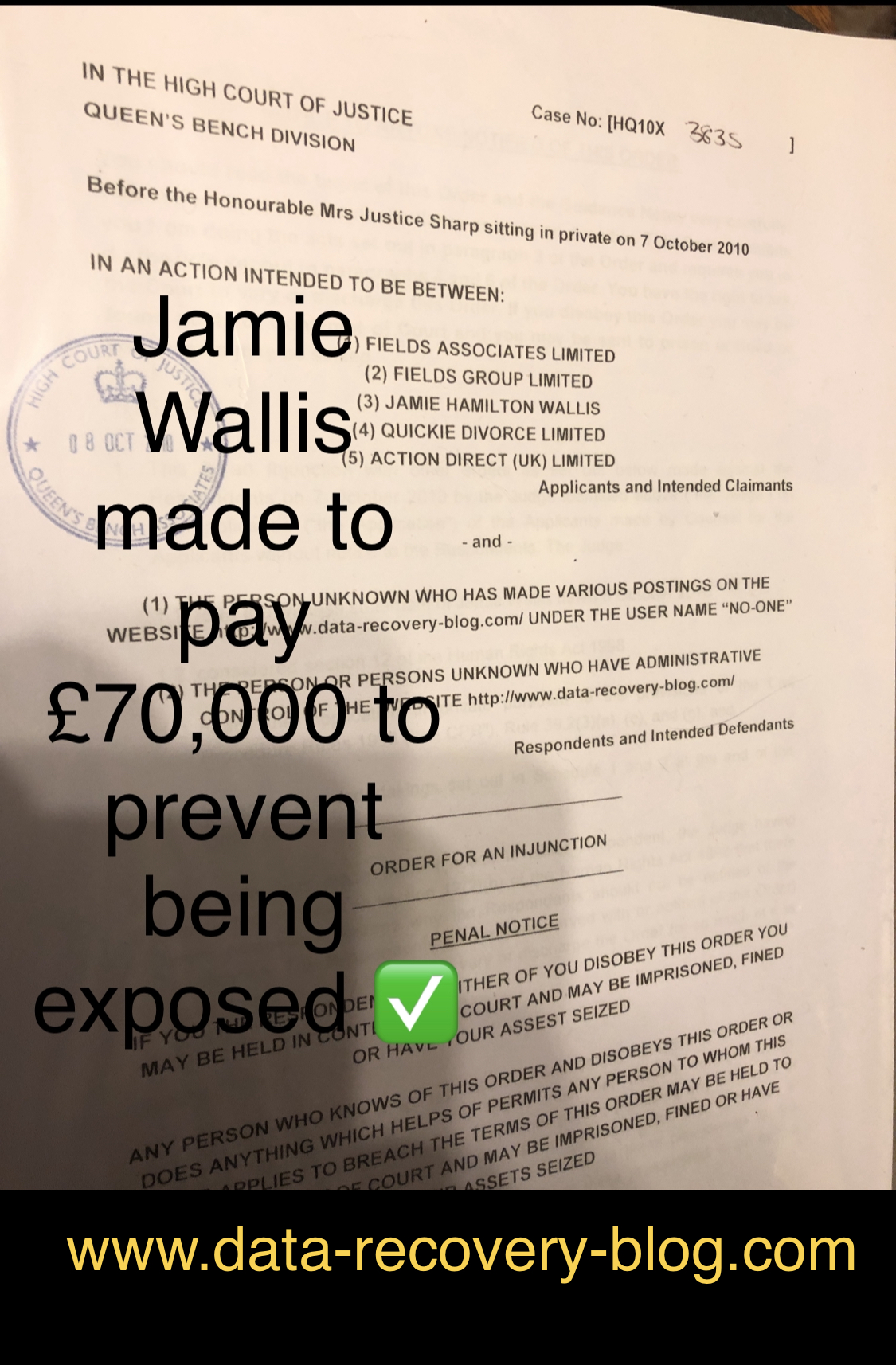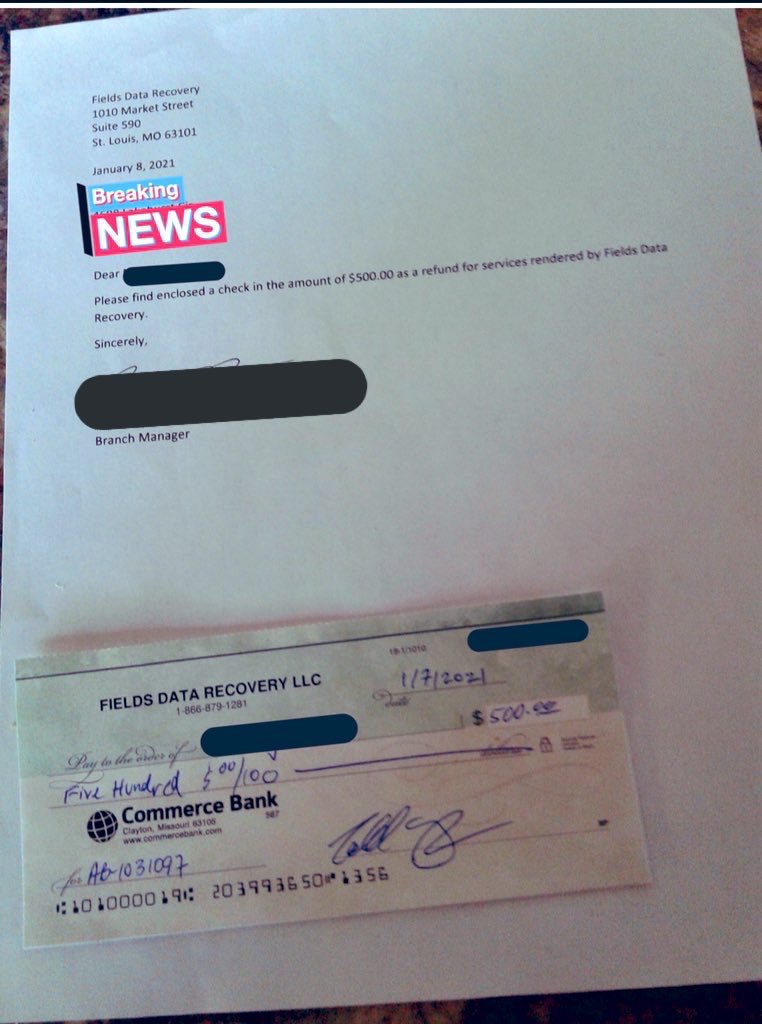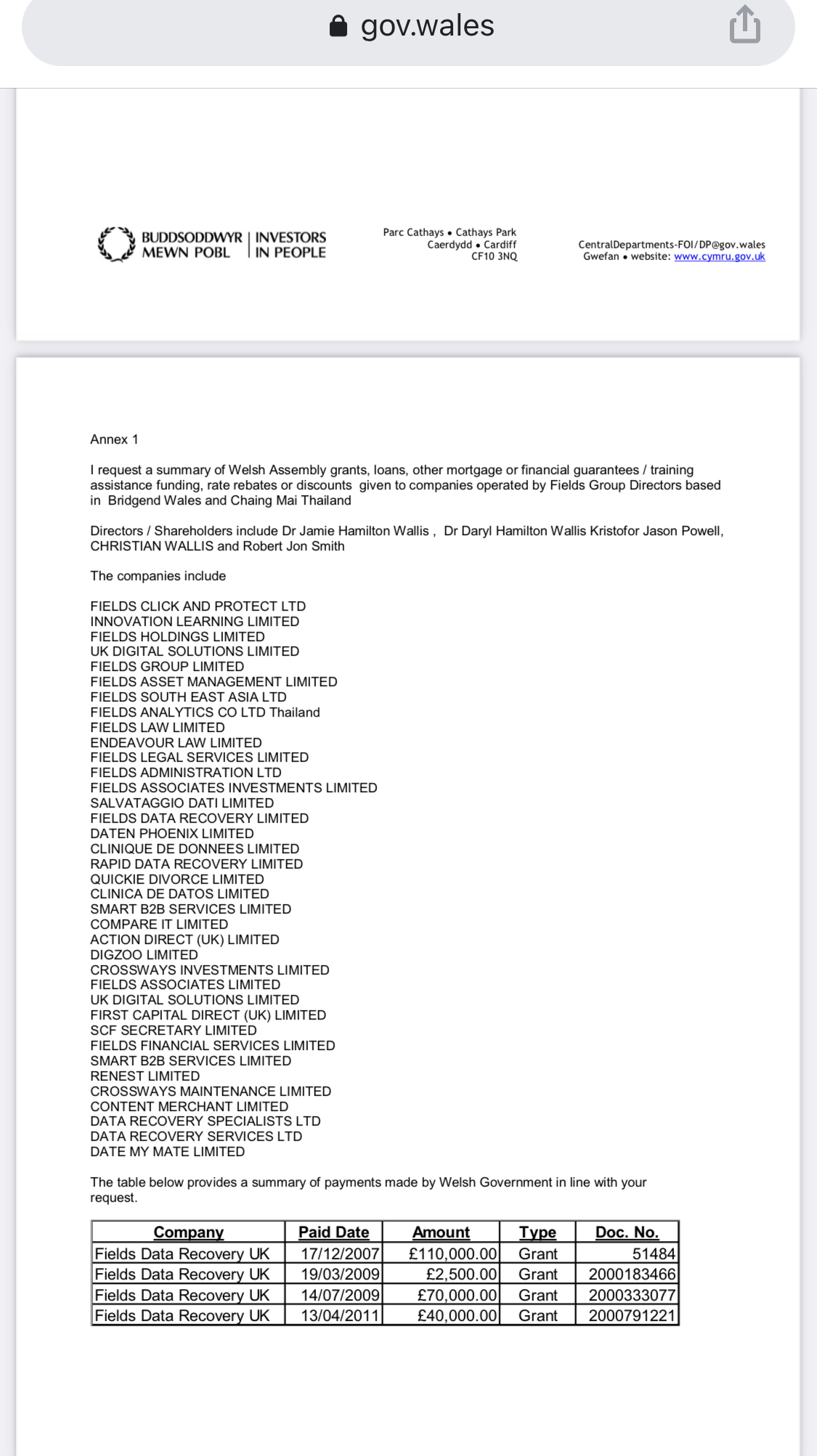 Others websites / Brands operated by Fields Group
Websites
www.fields-analytics.com
www.Fields-associates.co.uk
www.hard-drive-data-recovery.co.uk
www.datarecoveryspecialists.co.uk
www.rapid-data.net
www.fields-data-recovery.com
www.fields-data-recovery.co.uk
www.pronto-dati.com
www.dataphoenix.co.uk
www.salvataggio-dati.com
www.datenphoenix.de
www.recuperacionexpress.net
www.clinique-de-donnees.fr
www.computerforensicsspecialists.co.uk
www.www.clean-break.co.uk
www.www.managed-divorce.co.uk
www.solicitor-divorce.com
www.uk-divorce-uk.com
www.cohabitation-agreement.co.uk
www.divorce-solicitor.net
www.pre-nuptial-agreement.co.uk
www.separation-agreement.co.uk
www.injunction-direct.com
www.injunction-online.com
www.tribunal-action.com
www.tribunal-online.com
www.visaaction.co.uk
www.custody-action.com
www.driving-theorytest.co.uk
www.ukds.net
www.ukdigitalsolutions.com
www.online-conveyancing.net
www.which-mortgage.net
www.lushdates.com
www.ukds-recruitment.com
www.smartcompanyformations.co.uk
www.smartsitesolutions.net
www.smart-payroll.co.uk
www.smart-businessplans.co.uk
www.smart-b2b.com
Brands
Data Recovery Services Ltd Penarth
Fields Data Recovery Ltd
Rapid Data Recovery Ltd
Action Direct UK Ltd
Debt Survival UK Ltd
Quickie Divorce Ltd
UK Digital Solutions Ltd
Smart B2B Services Ltd
First Claims Direct Ltd
Fields Associates Ltd
Endevour Law Ltd
Smart Company Formations Ltd
Compare IT Ltd