RAID, SAN & NAS Drive Data Recovery Services
Our RAID data recovery services offer a thorough data recovery service that is unique in our industry. We can recover your failed server, whether Windows, Mac, Linux, Solaris, BSD or any other Unix variant with options of on-site repairs and 24 hour turn around times. We can even get your server up and running and transfer your critical data back to it.
Our server recovery services are led by experienced RAID Recovery engineers who you get to talk to as they progress your recovery. Their experience includes IAS, Exchange, NT Server, Server 2000, Server 2003, Server 2007, Server 2008, Data Center 2004, Data Center 2006 etc. Linux Server, Ubuntu, Redhat, Debian, Efinity Server etc.
R3 RAID engineers are amongst the very best in the world for enterprise and SMB server recovery and restoration. R3 routinely recover business critical data after being declared unrecoverable in the UK.
The Security House Lab manages disaster recovery of all types of RAID (5,6,50 etc) All file systems, File Types, Proprietary File types, LUNS, Virtual Servers, VHD, VM Exchange Data Stores and millions of flat files with data integrity checking.
From failed RAID arrays of all of the major manufacturers including:
Fujitsu
QNAP
Synology
Buffalo
Thecus
SuperMicro
G-Tech
D-Link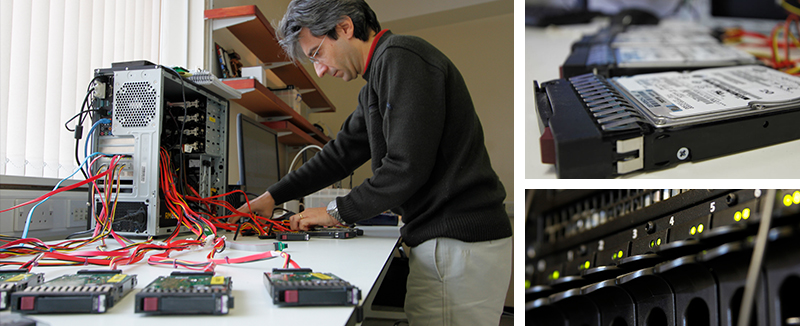 Leave IT To The Experts
Our in house server/network team consists of industry leading data recovery experts, Microsoft Certified Professionals, hardware, software and Linux/Unix experts. With superb customer service support and data loss prevention consultation services we believe that we offer the widest, most comprehensive disaster prevention and data recovery team in the UK.
Please don't try and fix the issues you have without contacting us first. Any work you do perform may cause more issues, talk to us and together we'll plan the best course of action.
We recover data from all manner of disasters such as:
Failed or degraded RAID arrays
Accidentally initialised arrays
2 or more failed members in a RAID 5
Deleted, formatted or reinstalled volume
Controller Failures
Failed rebuild attempts
If you have experienced data loss from a server or RAID array please feel free to contact us for help advice and support. Our services include:
On-site recovery
Strategic data loss prevention risk assessments
Secure remote backup services
Remote assistance
All of our Server Recovery services start with your free telephone consultation so call now on:0800 999 3282. Alternatively click here to fill in our priority contact request form and we will assign one of our best suited server/RAID specialists to call you ASAP!
RAID Data Recovery Services
R3 engineers have developed a unique RAID recovery technique that has completely transformed the recovery of RAID systems, enabling high-capacity enterprise storage failures to be rectified in very short time scales. Even from catastrophic, multiple hard drive failures.
File Systems
NTFS RAID
HFS and HFS+ (Apple RAID)
Ext2, Ext3, Ext4 (Linux and linux RAID derivatives)
JFS RAID (Journaling file system)
NWFS and NSS (Novell RAID)
UFS (UNIX RAID)
XFS RAID (Silicon Graphics)
ZFS RAID (SUN)
And all others. Our current research indicates that there are no file systems we are not able to support.
RAID Data Recovery - Regardless of The Type or Level
RAID 0
RAID 1
RAID 2
RAID 3
RAID 4
RAID 5
RAID 6
Double parity
RAID-DP
RAID 5E, RAID 5EE, and
RAID 6E
Intel Matrix RAID
Linux MD RAID 10
RAID 1E
RAID-Z
Drive Extender
BeyondRAID
unRAID
CRYPTO softraid
RAID 0+1
RAID 1+0
RAID 100 (RAID 10+0)
RAID 50 (RAID 5+0)
RAID 53
RAID 60 (RAID 6+0)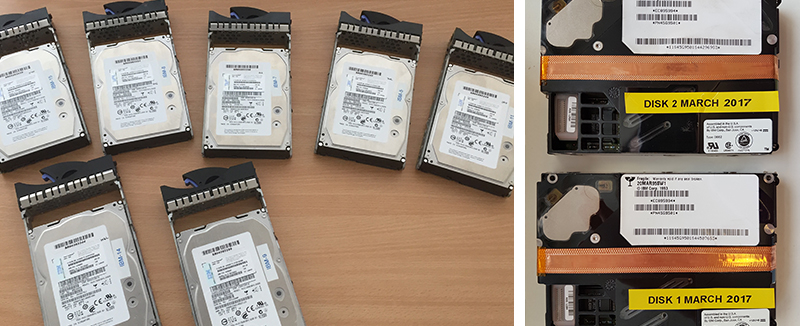 RAID 0 & RAID 1
A lot of drives get sent to us to recover, the majority are from personal users but sometimes we get in drives that are from large companies/businesses.
Most commonly these days large businesses rely on servers/RAIDs to store their data on which can be easily accessed by everyone in that particular business. Recently we have had a few jobs that have come into us which are NAS boxes, which contain 2-4 drives suggesting that it is in fact a RAID recovery.
We would have to diagnose the drives to find out if the drives are part of a RAID 0 (volume where data is split across 2 disks), or a RAID 1 (mirrored pair so both drives have the same data). RAID 0 normally contain only 2 drives however theoretically you can have as many drives you like, however RAID 1 only ever allows 2 drives.
It is more time consuming to try and recover a RAID 0 as the engineers have to work out the config of the RAID and if the drives are not in fully working condition it can be difficult to get the RAID in a working state with a partial image, whereas with a RAID 1 you only need one drive, and in most cases one drive is always in a working state so recovering the data from it is simple.
Also, you can't try and recover a RAID 0 with only one of the disks, you have to have both the disks in order to recover the data, whereas for a RAID 1 recovery you don't have to use both since both disks have the exact same data on them.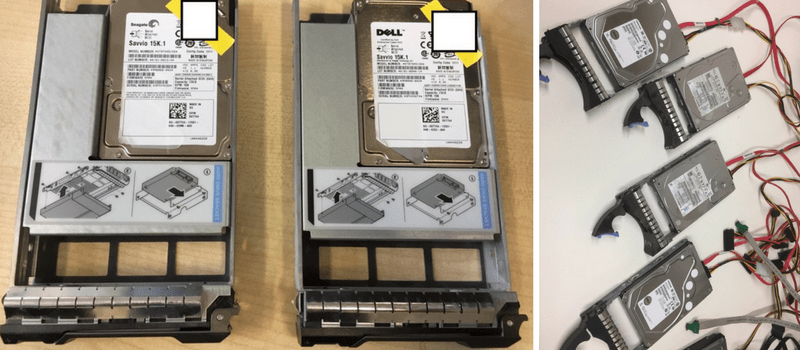 Non Standard RAID Recovery
Non standard RAID recovery includes the following RAID levels:
BeyondRAID by Data Robotics (DROBO)
Double Parity RAID (also known as Diagonal Parity, or RAID 6)
RAID Z (used by the Sun ZFS file system)
RAID Z2 Double Parity RAID-Z by for Sun systems' ZFS file system
Drive Extender (Microsoft Windows Home Server)
IBM ServeRAID (Proprietary IBM controller supporting RAID 0, RAID 1, RAID 1E, RAID 5, RAID 5E, RAID 00, RAID 10, RAID 1E0 and RAID 50)
RAID-DP (double parity RAID by NetApp)
RAID-K (Kaleidescape)
RAID S (proprietary variant of RAID 5 adapted by EMC Corporation for their Symmetrix storage arrays)
RAID 5E (Enhanced RAID 5)
RAID 5EE (Integrates the capacity of the hot spare into the array)
RAID 6E (no dedicated hot-swap drive)
Linux MD RAID 10 (RAID 0 with redundancy)
RAID 0+3
RAID 30
RAID 100 (also known as RAID 10+0)
RAID 50 (also known as RAID 5+0)
RAID 51 (mirrored RAID 5 arrays)
RAID 60 (RAID 6 with striping)
We've spent many years developing a proprietary RAID Data Recovery System and we continue to research RAID storage parameters and methods. This enables us to identify all operating system, file system, volume, and RAID parameters, from any multi-drive storage device, enabling us to recover data from corrupt or crashed RAID arrays that have defeated other data recovery companies.
Even if you have been told your data is not recoverable, so long as it hasn't suffered severe, obvious physical damage, we are certain we can recover it, and invite you to send it to us for evaluation. There is no charge for the evaluation. Call us today at 0800 999 3282 to get started with your unique case.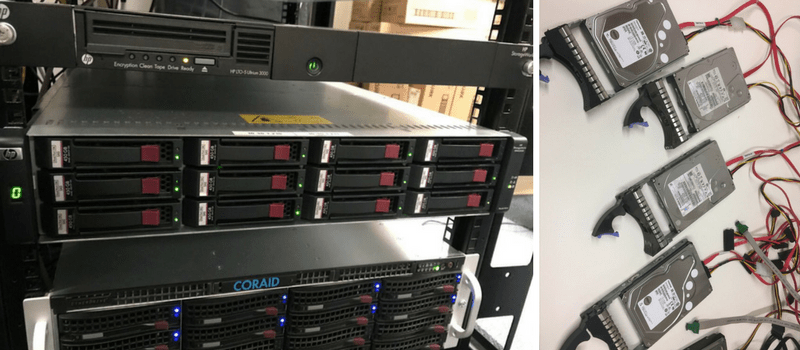 RAID Array Failure
When a RAID array fails it's not because they are designed to fail, something goes wrong, be it accident or disaster.

But for a large scale RAID 5 array to fail is unusual but it does happen. Often storage infrastructure managers are not aware how data corruption can creep into a RAID at the block level.

In the lab we see the effects on a daily basis from a 3 Disk drive configuration right up to 22 or even 55 disk members arriving at the Security House lab and onsite upto a 180 disk arrays.

Non are designed to fail but they do. In some situations what starts as one bad drive can lead to a complex mess and missing data even within VMs and databases.

Multiple failed / swapped drives later and more keep failing each time new ones are added to resync. Despite the resilience of the RAID, data to corruption can creep in despite monitoring software giving no indication of drive errors.

If it's a pointer to your situation and how as a data recovery lab we see the consequences of picking the wrong model / class of drives - over 70% of our work in DR is thanks to non enterprise class Seagate hard drives.

Some DR labs are also Seagate partners because they do not have the capabilities we have and they still cannot recover in lab what R3 engineers can.

R3 don't use Seagates in their servers or imaging process except for 8TB at the moment but that's not to say Seagates are bad drives, it a combination of factors, market share, brand loyalty, low cost, extended warranty, but they do develop problems.

R3 currently have over 500 1TB to 6TB drives in use in the lab most are WD - Western Digital - A colourful mixture of Red, Green, White, Gold, Blue and Purple.

R3 do get bad sectors developing on them spotted during the imaging process or during the secure wiping process. Failing drives are pensioned off but they are worked hard and power cycled regularly as well a sure wiped after every recovery is completed. What you should not do is assume new storage technology or VM or SSD or cloud backup is the solution it's not.

If you need help checking the integrity of your data or run into problems with any loss of data get in touch with R3s disaster and data recovery specialists. R3 Data Recovery Ltd has a staff of 25 with 8 Full time engineers and their assistants recovering data 7 days per week for clients across the UK and internationally.

SAN and Xsan Data Recovery
SAN and Xsan recovery is highly complex, and available only from a few data recovery companies worldwide. If you have a crashed SAN or Xsan network caused by the failure of a hard drive (or even multiple drive failures), a volume or storage pool is corrupt, LUNs have disappeared, the metadata server has failed, you've had a power surge or power failure – whatever the reason, we'll get you running and into full production again. Quickly.
We don't just recover the data; we actually recover and restore the entire server, potentially saving you days in data transfer and system re-configuration required with other recovery methods. We have a proven track record in recovering even from multiple drive failures. We recover RAID arrays of any capacity - from a small, 16-disk array to one comprising hundreds of drives, with multiple volumes and LUNs.
The operating system or file system is immaterial; our forensics RAID recovery engineers employ our own, specially-developed techniques, meaning we can recover any server, with any operating system and any file system.
Xsan data recovery from multiple drive failure, or other serious hardware faults is beyond the technical capability of Apple engineers, from the company that installed and maintains your system, and from your IT Manager. If the crashed SAN is powered off, please keep it so – and do not attempt recovery as the situation will almost certainly deteriorate. If you contact us, we will advise you on the best course of action.
If anyone has told you that recovery is impossible, please don't re-format or replace any part of the system. We'd like to examine the system first. Don't be persuaded otherwise; even if there is multiple drive failure.
NAS Data Recovery
If your NAS storage device has failed, and it is already powered off, we recommend you leave it in that state and contact us for advice. We will run through the symptoms leading up to the failure, and advise you what steps to take to increase the chances of a successful recovery.
Just some of the devices we perform NAS data recovery services on:
Acer (Altos EasyStore)
Buffalo (TeraStation and Linkstation)
Cisco
DROBO (Data Robotics )
Dell (NAS, EMC and EqualLogic)
D-Link
EasyRAID
Edge
G-Tech
Iomega
Freecom
LaCie NAS
LinkSYS
Netgear ReadyNAS
Promise (SmartStor and VTrak)
QNAP
Macpower Pleiades
Snap Server
Synology
Thecus
Second Opinion Matter - Even if your NAS device has been declared unrecoverable by another data recovery firm, we invite you to allow us the opportunity to examine it. Call us today at 0800 999 3282 to get your second opinion.
Our proprietary RAID recovery system means we are able to rebuild the file system from practically any RAID level, and from any file system we have encountered. We have an almost 100% success rate for the recovery of RAID arrays suffering from logical failure, controller failure, or even RAID reinitialisation.