Virtual Machine Data & Disaster Recovery
Expert Data Recovery Services For Virtual Machines and Virtual Systems
R3 is an experienced team that offers virtual machine repair and data recovery services as well as a number of other services to help you avoid downtime and data loss. If you cannot retrieve data from your virtual machine because of a system crash or data corruption, then get in touch with R3 and see how we can help.
File systems for virtual machines are quite challenging to work with. Many standard data recovery tools cannot work with VMFS systems. To be in with a chance of recovering data from a crashed virtual machine you will need to find someone who has a lot of experience with failed VMFS.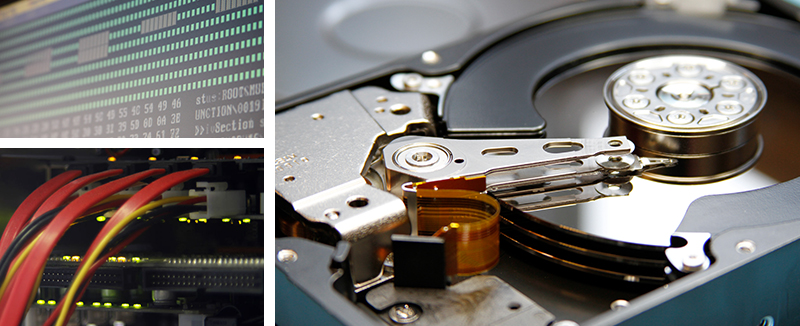 The Most Frequent Issues With Virtual Machines
Corrupted files
Environmental damage that causes hardware failure
User error
Failure of error notification mechanisms
RAID Controller issues
Logical issues and data corruption
At R3 we take pride in offering virtual machine data recovery for both single disks and RAID Arrays. We have our own proprietary utilities for rebuilding and restriping VMFS data, and these can allow us to get faster results for the people we work with.
We offer a free diagnostic service, and will give you a no obligation quote as well as an estimate for the repair time. If you are happy with our quote, then we will carry out the service for you, and we offer a no recovery, no charge service as our standard guarantee, so get in touch today if you have data you are hoping to save.
What to Do if Your VM Fails
If you have a virtual machine that has failed then it is important that you get it looked at immediately. Do not attempt to run recovery programs on a device that has suffered catastrophic failure. There is too much risk of you doing lasting damage to the data - incorrect use of recovery tools can make data issues worse.
Make a note of any error messages that you see and call a recovery engineer. Power down the system, and wait for the experts to arrive to take a look at it.
We will be happy to take a look at your systems, and we offer good turnaround times, so we can help you get started with repairing your data.
We are one of the only companies in UK with a 24/7/365 service for emergency data recovery.

We can do single-day recovery in a lot of cases (depending on the severity of the fault) and we offer a secure service too.
We take pride in having the highest success rate in the UK.
Our advanced technologies are operated by certified virtualization specialists and we are always investing in new tools, systems and research to improve our data recovery. We have an ISO 3 Cleanroom which we use for repairing damaged physical media, and we have powerful software to help with other issues that can cause data loss.
Our risk-free diagnostics will give us an indication of whether we can recover your data or not – and you are under no obligation to use the service.
If you want to know whether we can help you or not, give us a call today to discuss your data recovery, diagnostics and security needs.
Trust your virtual machine to UK's leading virtualization experts. The R3 team has successfully performed repairs in hundreds of real and simulated scenarios, and our focus on research translates to real results. Our skilled professionals will be able to reliably recover data from your server.
If your VMWare system fails, contact our team of experts at 0800 999 3282 or click here to fill out our FREE, no-obligation diagnositcs form for immediate help and assistance.
Deleted Virtual Machines (VMs)
What happens when you delete a Virtual Machine?
A virtual machine when described and thought of in a simplistic way is a non-physical computer. It can be a server, a desktop PC, a MAC or any computer that provides the same functionality as their physical computing counterpart.
Most Virtual Machines operate using highly specialised software (though some require hardware or both), common desktop virtualisation applications include VMWARE and PARALLELS for Windows and MAC respectively.
The virtualisation applications are typically installed on a host computer and can be thought of as similar to other applications with how they run but are more complicated than others.
When these virtualisation applications start they are emulating how a computer works physically so they require hard disk space, RAM, graphical resources etc. and require what you know as an operating system which is the actual virtual machine which contains the operating system, applications within the virtual operating system and the data held within it such as videos, images or anything one would normally store on a computer.
When used in this manner the Virtual Machine can be thought of as a single file that grows as it is added to and shrinks as data is removed from it.
When a file is deleted from an Operating System the data itself is not physically removed from the hard disk but the areas on the disk used to store the file are freed up to be used for other data when the Operating System needs to use that physical part of the disk (this is not the case if a secure method of wiping is used but that is beyond the scope of this article).
Over time that freed up area will be used and the data held will be lost, this can be problematic when trying to recover a single file but for a VM lost in the same way it becomes far more problematic when trying to recover the content from a file held within another file.
Data Recovery From Deleted VMs
Computers and their file systems are very complicated with how they address where data is stored in a physical hard disk. An example of this file addressing within a Windows environment has been the MFT which is the master file table, or an address book for data so the operating system knows where it is, once the MFT loses this information recovery becomes complicated and has ramifications when trying to recover data such as the loss of meta data and data corruption.
When VMs are deleted recovery becomes much more problematic, as in all cases of data loss what is important is to consider the consequences of the data loss; do you have a copy somewhere perhaps on another disk or email? Will it be cost effective to recreate the data if at all possible?
If you no longer can access your virtual machine and think you need data recovery, get in contact with us and get a free over the phone quote. Ring us at 0800 999 3282 or click here to fill out our FREE, no-obligation diagnositcs form for immediate help and assistance.